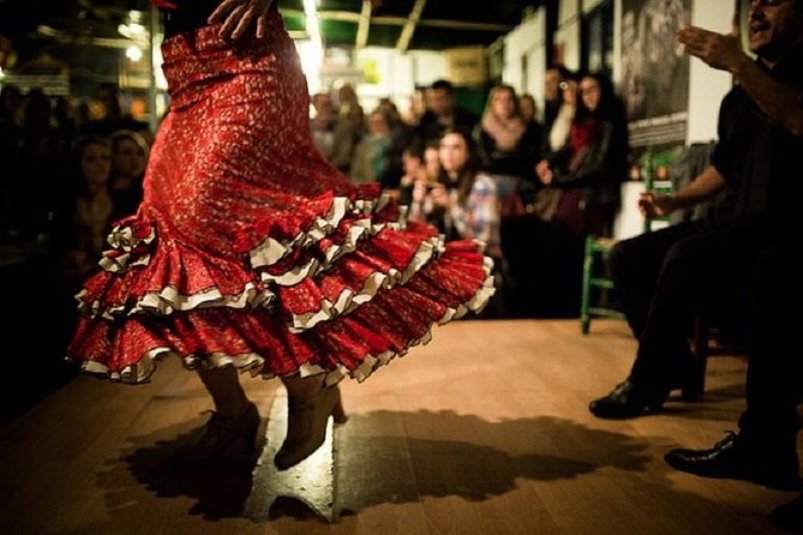 Flamenco is a traditional style of Spanish folk music and dance originating in the region of Andalucía around 500 years ago. Since then Flamenco has spread all across Spain and even to previous Spanish colonies. While most people only associate flamenco with graceful dancers twirling in their gypsy dress, flamenco is a very flamboyant and passionate art form which includes singing (cante), guitar playing (toque), dancing (baile) and hand clapping (palmas). Flamenco has also been cited as one of the major influences of modern-day tap dancing.
Malaga has a beautiful and vibrant flamenco scene and you'll find impromptu shows in streets or bars along with quainter flamenco clubs. Since the 1960's flamenco clubs have popped up across Malaga with its most famous - Peña Flamenca Juan Breva (since 1958) still active today. Here are some other places you can visit for a magical night of flamenco, food and drink:
Bienal de Flamenco
During the warm summer months, Bienal de Flamenco attracts some of the best flamenco artists in the country. In the year 2018, the Biennial was held between 3rd March and 9th September, with over 80 concerts and recitals, featuring almost 300 artists in over 30 municipalities.  Check out this year's August line up.
Restaurant Tipi Tapa
Tipi Tapa is a popular flamenco restaurant with a scrumptious selection of over 150 different tapas.  It offers weekly Flamenco shows usually Tuesday, Thursday and Saturday nights and the dancers and musicians here are authentic as they can get.
El Jardín Restaurante
Enjoy the best Malaga has to offer at this cottage venue (built-in 1887) which offers a grand view of the cathedral. Their food is famous, not just with tourists as Spaniards flock to this place to celebrate baptisms and communions. Along with their delicious Andalusian cuisine, El Jardin also features a stunning flamenco show.
If you don't have time to catch a show, check out these flamenco gigs happening around you.