Malaga Beaches
Malaga, located on the southern Spanish coastline, is famous for its dazzling beaches, cliffs and bays. People come here to explore the sun and sand at the trendy beaches of Malaga, with over 300 sunny days a year. Hitting the beach and enjoying beach activities are the top things to do in Malaga.
Many beaches are dotted with restautants, cafes, bars etc. Beaches like Malagueta and La Caleta are the busiest of all the beaches. Read on to discover beautiful beaches in Malaga worth visiting on your Spanish adventure.
CC/Tyk

Torremolinos Beaches (Playa de Torremolinos)
Torremolinos beaches are a popular destination for both locals and tourists. There are six main beaches in Torremolinos: Bajondillo, Los Alamos, Playamar, Montemar, La Carihuela and El Saltillo. These beaches are connected by 8km (5mi) long promenade. Playa de la Carihuela, the largest of Torremolinos' beaches.
Flickr/Bogdan Migulski

El Palo Beach (Playas Del Palo)
This family-friendly beach has earned as the best beach in Malaga, where you can relax, experience the scenic beauty, walk, swim or dive, and spend a delightful day. The beach is 1.2km in length, 25m in width and has the Q Seal of Tourism Quality. The beach is well equipped with facilities such as showers, sun beds, parasols and a parking area.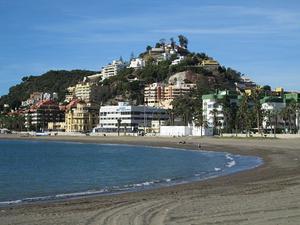 CC/Tyk

La Caleta Beach (Playa de la Caleta)
La Caleta Beach is the most well-maintained beach that stands out for its dark sand. The European Foundation has awarded the beach the Blue Flag for Environmental Education. It stretches about 1km in length and offers beautiful views of mountains. It has facilities like boat rentals, sunbeds, umbrellas etc.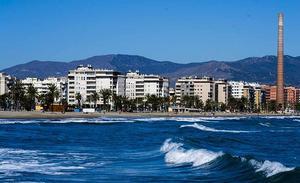 CC/Isa-Ruiz

Misericordia Beach (Playa de la Misericordia)
The picturesque dark-sand beach is 2km in length and about 30m wide and lies inside the Malaga city limits. This Blue Flag beach is famous for its old industrial chimney, which sits just next to the beach. It's famous for witnessing the phenomenon of "Ola del Melillero."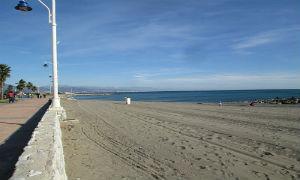 Guadalmar Beach (Playa de Guadalmar)
The Guadalmar Beach is a dark sand beach over 400m long and spreads right up to the Guadalhorce River estuary. The beach is visited mainly by naturists and is Malaga's only authorized nudist beach. Also, it is the closest beach to Malaga airport; therefore, low-flying aircrafts are a common sight.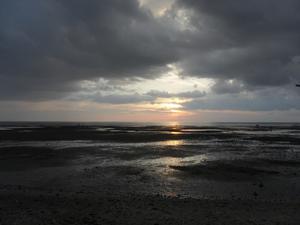 Pxhere
El Dedo Beach (Playa El Dedo)
Also called El Chanquete Beach, it is a family beach that stretches about 550m long and about 25m wide. It streches from the El Palo beach and Gálica Stream up to El Candado Marina. This dark sand beach with a beachfront promenade has been awarded the Blue Flag. The beach is famous because of the El Tintero beach bar's peculiar way of serving fish.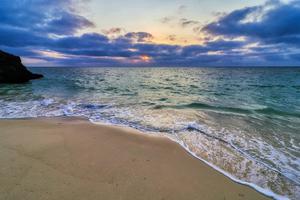 Pixabay/生盛
El Candado Beach (Playa El Candado)
El Candado is a small private beach only 200m long and belongs to the Club Náutico El Candado and the El Candado marina. The restaurants at the beach have terraces and tables and serve traditional gourmet dishes.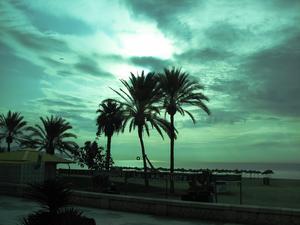 La Malagueta Beach (Playa La Malagueta)
La Malagueta Beach, situated between the Port of Malaga and La Caleta Beach, is one of the most visited beaches by locals and tourists. Measuring 1.2km long and 45m wide, the beach has moderate swells. This Blue Flag beach is easily accessible and dotted with restaurants and bars.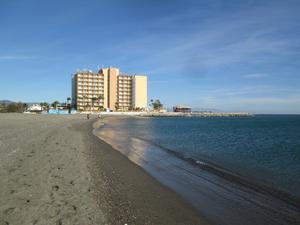 San Julian Beach (Playa de San Julián)
This beach lies next to a golf course from which it derives its name Campo de Golf San Julián Beach. It is Malaga's largest beach, stretches around 2.5km long and extends from Los Alamos to the Guadalhorce River. The beach is surrounded by vegetation and is not very crowded. It is popular among kite surfers and offers space for football.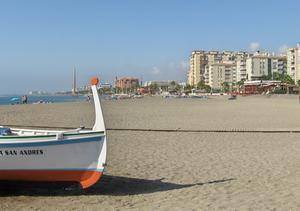 Huelin Beach (Playa de Huelin)
Huelin Beach, located between San Andres and La Misericordia coastal zones, is over 700m long and about 15m wide. This dark sand beach is easily accessible from the city centre. The main attractions near the beach are Huelin Park and Antonio Machado Beachfront Promenade. The Huelin beach is dotted with bars and restaurants serving many traditional dishes.
Recommended Activities