Malaga Beaches
Come and explore the sun and sand at the trendy beaches of Malaga with as many as 320 sunny days a year.
Experience the glorious sunsets at the golden beaches, which are equipped with all the ultra modern facilities such as showers, bathrooms, children's playgrounds, etc.
Many beaches are dotted with restautants, food courts, cafes etc. The beaches like Malagueta and La Caleta are the busiest of all the beaches and tourists of all the age groups can find something to do there as per their penchant.
CC/Tyk

Torremolinos Beach (Playa de Torremolinos)
Located in the centre of Torremolinos, next to Playamar, Torremolinos beach is a popular destination for both locals and tourists visiting Malaga. There are six major beaches in Torremolinos namely- Bajondillo, Los Alamos, Playamar, Montemar, La Carihuela and El Saltillo. The beach is well equipped with facilities and is ideal for family holidays during the summers.
Flickr/Bogdan Migulski

El Palo Beach (Playas Del Palo)
This 1.2km family friendly beach has a reconstructed shoreline which has maximised its space. Activities such as diving and fishing make the beach a perfect tourist place. The beach is well equipped with facilities such as showers, restaurants, parkings and public phones. Parasols and sun beds are also available.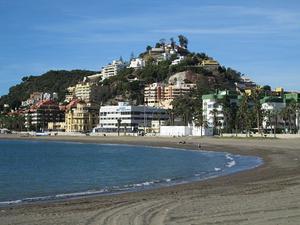 CC/Tyk

La Caleta Beach (Playa de la Caleta)
La Caleta beach is one of the most popular beaches in Malaga and stretches about 1km in length. The beach is famous for being the cleanest in the area and provides all the necessary facilities such as showers, first-aid, sun beds and parasol, wheelchair. The beach is a favourite local spot and boasts of activities such as beach volleyball, running and cycling.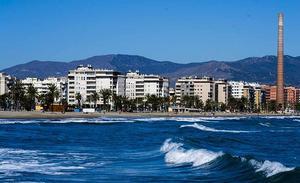 CC/Isa-Ruiz

Misericordia Beach (Playa de la Misericordia)
The picturesque dark-sand beach is 1.2km in length and about 30m wide and lies between Guadalhorce and Huelin. The beach is famous for its old industrial chimney which sits just next to the beach. Facilities include- showers, bins, rental parasols etc. This beach is most frequented by the younger crowd and is a popular destination for surfing.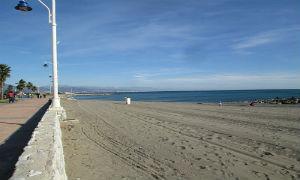 Guadalmar Beach (Playa de Guadalmar)
The Guadalmar beach is situated adjoining the San Julian beach and is about 450m in length and spreads right up to the Guadalhorce river estuary. The beach is visited mostly by the naturists and is Malaga's sole authorized nudist beach. Once you go there visiting the Guadalhorce river estuary is strongly recommended. Also, it lies under Malaga airport's flight path, therefore low-flying aircrafts is a common sight.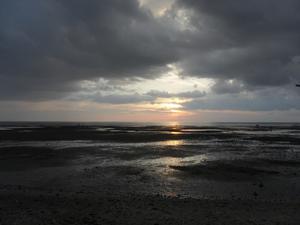 Pxhere
El Dedo Beach (Playa El Dedo)
Also called as the Finger beach, is a family beach and stretches about 550m. long and about 25m wide. The facilities that are available are all up-to-date. There are plenty of chiringuitos, bars and restaurants along the paseo. The beach is famous for its different types of fish delicacies and fish auctions.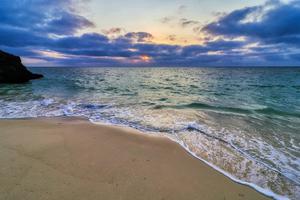 Pixabay/生盛
El Candado Beach (Playa El Candado)
El Candado is a small private beach only 200m in length and is linked to the Club Náutico El Candado and the El Candado marina. The restaurants at the beach have terraces and tables and serves gourmet traditional dishes. The food is incredible, though expensive. The three course menu is available at a cheaper price and is a better option.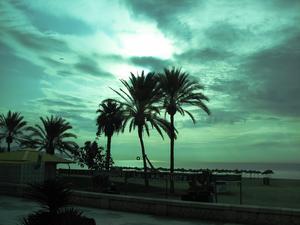 La Malagueta Beach (Playa La Malagueta)
This beach is a local favourite and is packed with families during the summer. The 1.2km beach has every convenience handy such as restaurants, bars, children's playgrounds, shops, etc. Malagueta beach is also the very first beach in the world to put forward a new lifesaving device called the 'Punto Naranja1'.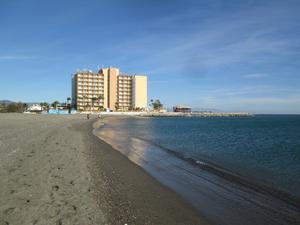 San Julian Beach (Playa de San Julián)
This beach lies next to a golf course from which it derives its name. The beach is long approximately 3.5km and extends from Los Alamos to the Guadalhorce river. The beach is not very crowded and is surrounded by vegetation. A trendy spot with kite surfers, dozens of sails in the air can be seen from afar when the wind permits.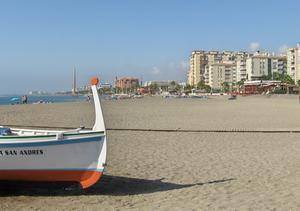 San Andres Beach or Huelin Beach (Playa de San Andrés o Playa de Huelin)
The Playa de San Andres, but called Huelin beach is a beach city of Malaga in Andalusia, Spain. It is immortalised in history as the place of the execution of General Torrijos, Boyd and associate revolutionaries in 1831. Apart from history the beach is very popular and has children's grass areas, kids playgrounds and all modern amenities. The beach has dark sand and is roughly 650m in length and 50m in width.
Recommended Activities