Malaga Economy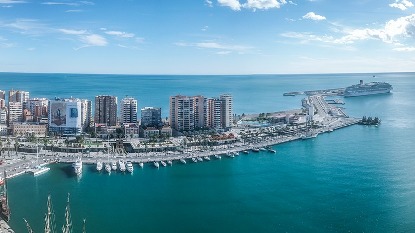 Malaga's strategic position has contributed to its economic stance, generating one of the most important ports in the Mediterranean, and its favourable location on the Costa del Sol enabling the city to attract millions of tourists every year.
The port in Malaga is the second largest in Spain, making it very popular with foreign traders from Europe and North Africa, and it even holds the third largest international Airport. The Airport has flight connections to more than 60 countries. This has converted the city of Malaga into Costa del Sol's commercial capital.
In the past, Malaga's economy was based on various industries such as agriculture and textiles, and it was even reported to be one of the richest provinces in the 19th Century. For example, it was ranked first for Chemical and production of Liquor. However, due to various factors and environmental changes, these have depreciated with time forcing Malaga to change its economic activities.
Today, Malaga's economy is dependent on construction, tourism, service industries and more recently research sectors. The tourism and service industries are the main sources of revenue, accounting for more than 65% of the employment rates.
Malaga has implemented various projects to improve its diversity of economic activities, such as converting the city into a cultural centre and enhancing its technological position.

Malaga is a candidate for the title 'European City of Culture' for 2016, which has meant that pressure has been put upon the city to restore historical monuments and invest in architectural heritage.
The technological Park of Andalucía, which is situated in Malaga, is an environmentally friendly business centre which dedicates its development to innovative processes. The establishment has so far increased the number of businesses launched across Malaga, especially those involved in information technology and communication.
Malaga is eager to become a European hi-tech economic centre, or in other words, a 'Silicon Valley' and professionals seem confident that this could be possible for this pioneering city. With its cultural emphasis, its technological advancements and even its academic institution attracting scholars of the future, it is heading in the right direction. Supporting this, recent data has confirmed that the city of Malaga has reported one of the fastest commercial growth rates, compared to other major cities in Spain.
Recommended Activities