Malaga Geography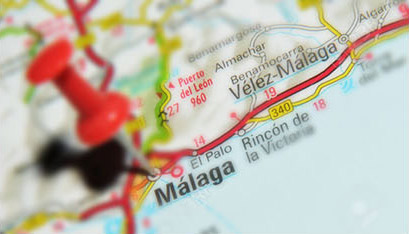 Malaga is geographically located in southern Spain which is in south-western Europe. The city lies on the Mediterranean coastline, surrounded by the rest of the seven cities such as, Cadiz, Seville and Granada, which constitute the region of Andalucía.
36° 43' 0" N , 4° 25' 0" W
The coastline strip is known as the well developed, sandy and sunny Costa del Sol which is responsible for attracting many of Malaga's beach-loving tourists.
Malaga is located between two river valleys, Guadalhorce and Guadalmina and these have influenced the city's development. While the Guadalhorce River has left remains of a mudflat area which occupies around 60 hectares of land, the Guadalmina River, which is nurtured by the mountain waters, has also played a role in the history of Malaga.
The city of Malaga is very rocky, and this is because the majority of the Malaga Mountains fall within this borough. The Mountains in Malaga are steep and rocky with peaks of around 500 meters. The mountains were confirmed as a National Park in 1989, and the area contains over 200 varieties of vegetation and more than 150 species, including mammals, birds, reptiles and fish.
Climate
Malaga's geographical location allows it to have very mild winters and hot summers.
There are on average more than 300 sunny days a year with less than 50 days a year of rain and an average temperature of about 23°C. Temperatures can reach their highest point in July-August and their lowest in December-January.
As Malaga is located on the coastline, the winds blowing from the Mediterranean Sea makes the heat manageable during the summer, whereas those cities located further inland can suffer from unbearable heat.
During the summer, temperatures can reach up to 30°C, and humidity levels are low.
During the winter, the Malaga Mountains block out the cold weather and therefore temperatures generally never go below 9°C.
Swimming can be enjoyed throughout the year as winter sea temperatures only fall to around 18°C, while summer sea temperatures can rise up to 25°C.
All year round Malaga generally has pleasant weather, although the summers are most popular amongst tourists who want to bathe on the beautiful sandy beaches and enjoy cool romantic nights.
Population
The province of Malaga inhabits over a million people, while the city only holds 576,725 according to the 2007 Census.
Foreign nationalities have been significantly rising in Malaga, especially those from the UK who want a better standard of living and pleasant weather. It is said that the majority of foreigners live by the coastline.
Recommended Activities