Malaga Geography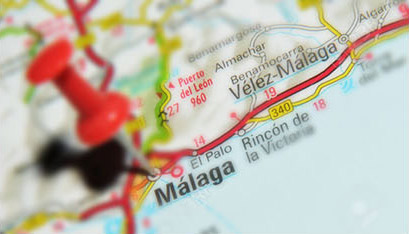 Malaga is a coastal city located in the southern part of Spain, in the region of Andalusia. It is situated on the Mediterranean coast and is bordered by the mountains of the Axarquía to the north and the Guadalhorce River valley to the west.
36° 43' 0" N , 4° 25' 0" W
Malaga city centre is located close to the Guadalhorce's mouth and around the mouth of the Guadalmedina. The Totalán Creek forms the eastern boundary of Málaga.
Geographically, Malaga is known for its varied landscape, ranging from mountains to beach, with a mixture of urban areas and rural countryside. The city is situated at the foot of the Montes de Malaga mountain range, which provides a scenic backdrop to the city. The highest point in the range is the Pico Reina, rising up to 1,031m (3,383ft) above sea level. The coastline is characterized by long stretches of sandy beaches dotted with cliffs and rocky coves.
Climate
Malaga has a subtropical Mediterranean climate, with mild winters and hot summers. The city experiences an average temperature of around 18°C (64°F) throughout the year, with the warmest months being July and August, when temperatures can soar up to 30°C (86°F). The coldest month is typically January, with temperatures averaging around 12°C (54°F). Malaga is known for its high levels of sunshine, with an average of over 300 days of sunshine per year.
The city is also prone to occasional rainfall, particularly during the winter months, which helps to keep the surrounding countryside lush and green. Overall, the climate in Malaga is ideal for outdoor activities such as sunbathing, swimming, and hiking, making it a popular destination for tourists from all over the world.
As Malaga is located on the coastline, the winds blowing from the Mediterranean Sea make the heat manageable during the summer. In contrast, cities located further inland suffer from unbearable heat.
Swimming can be enjoyed throughout the year as winter sea temperatures only fall to around 18°C, while summer sea temperatures can rise up to 25°C.
All year round, Malaga generally has pleasant weather. However, the summers are most popular amongst tourists who want to bathe on the beautiful sandy beaches and enjoy cool romantic nights.
Population
The population of Malaga Province is 1,700,752 (in 2021), while Malaga city's population is 578,460 (in 2020).
The number of foreign nationals in Malaga has grown considerably since the 1970s. As of 2020, Malaga's foreign population is over 50,000.
Recommended Activities