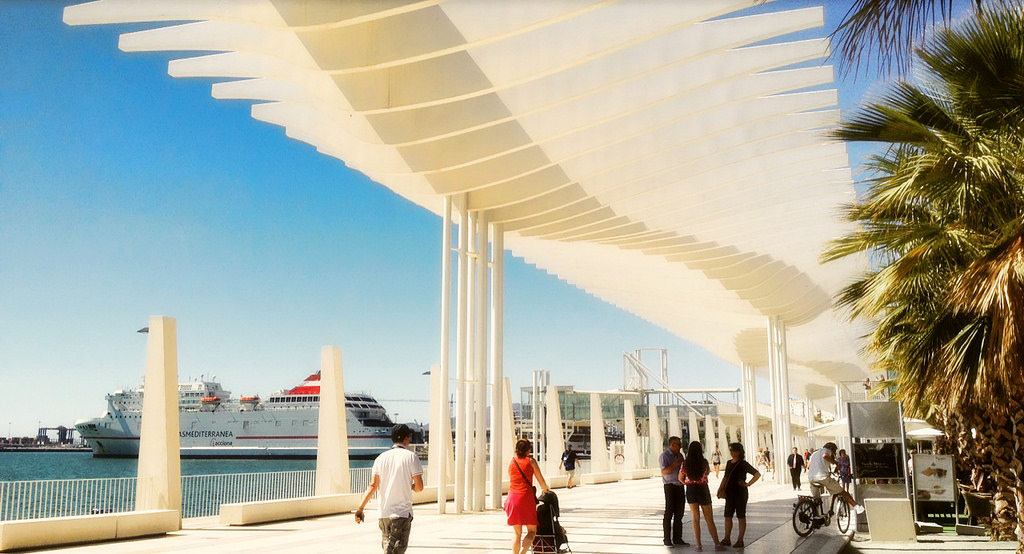 Credit: Flickr / Nick Kenrick / CC BY 2.0
Malaga is renowned for its nightlife, but the best places to go and stay to make the most of your time here depend on your preferences. From historical importance to musical madness, here are three top experiences to ensure your trip is as fun as it is tranquil.
History and Culture
Place to Be: Antigua Casa Guardia 
Place to Stay: Atarazanas Malaga Boutique Hotel
Gracing the Alameda Principal since 1840, it's no surprise that Antigua Casa Guardia is one of the most popular bars in all of Malaga. The location is so popular that Picasso himself loved visiting back when he was in Malaga. These days, the bar offers sweet wines at just €1.46 a glass, dispensed from barrels right behind the large wooden bar. The Pedro Ximen is extraordinary, though the Pajarete and the Moscatel are also popular choices.
If you'd like to spend your Malaga evenings here, we recommend staying at the Atarazanas Malaga Boutique Hotel. There are 39 rooms, each with fully-functioning air conditioning, free high-speed wifi, a minibar and access to laundry services. Although there is no pool or onsite restaurant, there is a bar lounge with a rather extensive menu.
Gaming
Place to Be: Casino Torrequebrada 
Place to Stay: Estival Torrequebrada Hotel
These days, casino fans are spoiled for choice due to the wealth of online platforms accessible at the click of a button. No matter what you're looking for - be it traditional casino games or brand new high-quality slot machines - some internet casino is sure to have it. No land-based casino could ever compete with that, right? Wrong. High rollers visiting Spain to find the best casino entertainment will find Casino Torrequebrada to be their best bet. There are numerous versions of roulette, as well as blackjack, baccarat and poker, which they even host tournaments for. Plus, there are loads of slot machines, from oldies to new-fangled releases.
Since you'll be frequenting such a fancy establishment, it's only right that you stay in an equally lavish hotel. Fortunately for you, that hotel and this casino are one and the same. It has all the amenities one could ever need between nights at the casino: outdoor and indoor pools, beach-front access, conference rooms, a bar lounge, a fitness centre with gym and sauna and a restaurant. Although it may be tempting to go in and never leave, do remember to get out and explore the beautiful city!
Music
A place to Be: ZZ Pub
A place to Stay: Hotel Del Pintor
Finally, a well-loved club where every sort of music you can imagine is played through the night into the Madrugada. Jazz, funk, soul or salsa-lovers alike will hear their songs come on at some point. If you love live music, there are a number of gigs throughout the week too.
If you're partying the night away you don't want to have to walk miles to your hotel and Hotel Del Pintor is nearby, offering comfy beds, a concierge service and free internet. It doesn't have all the amenities other hotels may have, but since it's in the historic centre of Malaga there's no doubt you'll find things to do during the day.
Where else would you recommend people visit in Malaga and where should they stay? Please let us know in the comments below.