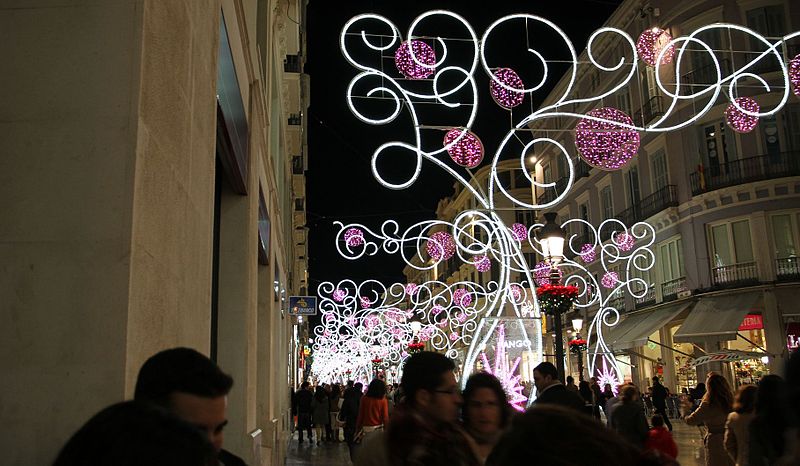 It's Christmas time, again, the joyous and beautiful time of the year. It's especially wonderful in Spain and other Latin American countries where the commercialization and marketing, which is common in the United States of America is replaced by the simply shared joy and celebrated by each member of the family.
In Spain and elsewhere in Latin America families are not dependent on automobiles, instead, the citizens prefer walking and the use of public transportation. Many live close to the centre of the cities and they enjoy walking, watching the sights and sounds of their native city.

In Malaga, you'll find dedicated pedestrian streets lined with shops and crowded with people. Teenage girls walking with mothers hand in hand, it is one of the wonders of life in Latin America. Families enjoy spending time together and always stop to partake in ethnic foods. In bars there are tapas and Bocas with the drinks and the restaurants offer hot chocolate and churros for those who only want a quick snack.

During Christmas in Malaga, you can enjoy an exquisite display of lighting, transforming this beautiful and historic city into a winter wonderland. Walk down the marble-paved, pedestrian-only Calle de Larios. Enjoy the proliferation of poinsettias thriving outside in this climate. The lighting display is fantastic. You will feel as if you are in a celestial cathedral. Walk toward the Plaza Constitution where you'll be thrilled by the giant electrified Christmas tree decorating the square. Savour the holiday season in Malaga with your family, have a hot chocolate and at least one churro.

You can enjoy this spectacular Christmas display in Malaga from 6:30 p.m. until 2:00 a.m. lasting until January 6, 2016.