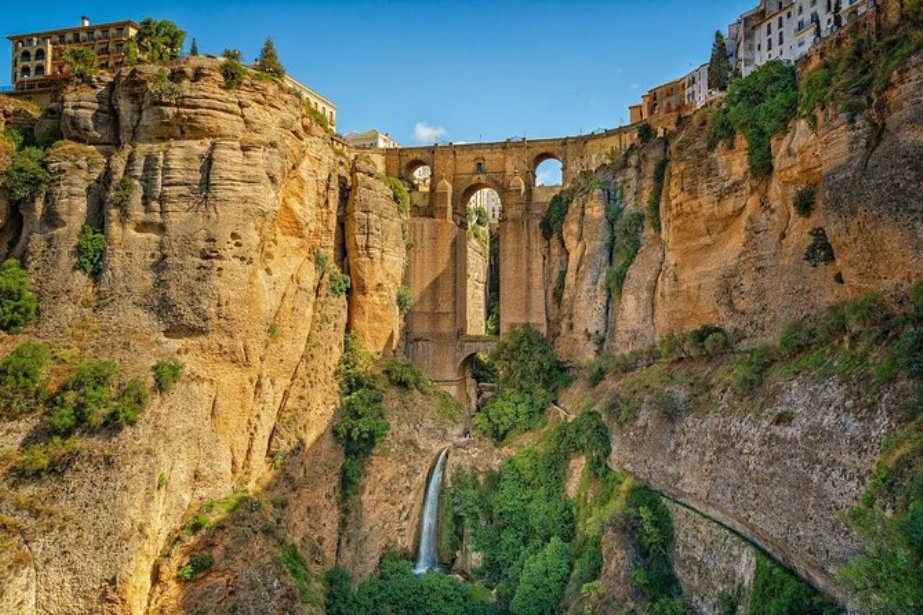 Spend a day at the beautiful city of Ronda, about 100 km west of Malaga, and enjoy a personalized, private tour as you soak up Ronda's historical sights. Stroll over the magnificent bridges, and dip into tasting some of the finest wines in the region.
Your private tour to Ronda will start at 8 AM as you get fetched from your hotel in Malaga. A peaceful ride will relax your senses as you approach the elevated, charming centre of Ronda.
You will be taken to the famous El Tajo Gorge, almost 200-meters deep, rich in civil war stories and a historical gold. River Guadalevin traverses through the city, which gave birth to the magnificent bridges that reach the lows of the canyon and the heights of Ronda roads. The Puente Nuevo, or New Bridge, is the crowd favourite and proved to be the most impressive. It has the more elaborate detailing and decor and stretches longer than Puente Viejo, also known as Old Bridge or Arab Bridge, and Puente Romano, or San Miguel Bridge. There are known vantage points along Puente Nuevo where you can take picturesque photos with stunning backdrops, overlooking the canyons. Or request for a side stop at Cuenca Gardens for a wide view of the bridge. You can walk along the sides of the bridge, as most tourists do. The road is cobbled and can accommodate traffic vehicles.

Ample time will be given to your party to roam around the endearing cobbled streets of Ronda after you see the churches and town centre.
At The Ronda Town Square or Plaza de Espana, you can explore the delightful grounds and surrounding majestic structures. The Church of the Holy Spirit, constructed in 1485, also served as a fortress during the war. You will take delight in visiting the Iglesia de Santa Maria la Mayor. It is considered one of the most splendid of the churches. The Plaza de Toros arena will show you the grandeur of bullfighting. It did not get to host as many bullfights as other bigger arenas, but it has its own museum and had been used as a venue for multimedia productions and events. 
Before the tour ends, you will be treated to a lavish wine tasting. A whole hour is dedicated to sipping two reds (wine), two whites (wine), and sweet local cherries.
There's nothing better than having to be able to pick your travel preferences and have the luxury of visiting each stop at your own phase. Schedule your Private Ronda Day Trip from Malaga and experience Ronda, the extra-special way.