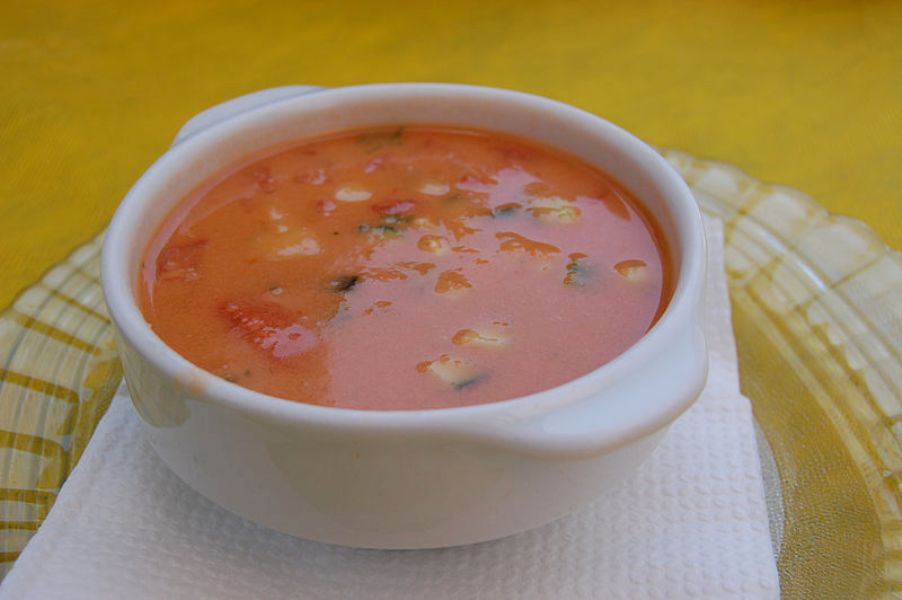 Gazpacho is a cool, cold soup, made with raw vegetables, usually tomato-based. It's a traditional Andalusian dish, bringing not just the hint of Spanish flavour in each spoonful, but Malaga's cultural roots as well. Now, innovative chefs have created gazpacho variations, infused exciting ingredients, and elevated the humble gazpacho to the levels of global gourmet.
Restaurante Dani Garcia
This cherry gazpacho variation from famed Restaurante Dani Garcia features anchovies and fresh cheese.

Restaurante Dani Garcia
Bulevar Príncipe Alfonso von Hohenlohe s/n, 29602 Marbella, Spain
Tel: +34 952 764 252

Tapadaki's Gazpacho de remolacha con atun rojo marinado en soja y jengibre or Beet gazpacho with red tuna marinated in soy and ginger

Restaurante Tapadaki
Calle Carretería, 69, 29008 Málaga, Spain
+34 952 21 79 66

Chiringuito Sicsú
Chiringuito Sicsú's gazpacho always gets rave reviews. It's fresh, exceptional, and a perfect appetizer with the restaurant's seafood dishes. Finish off your meal with a cold beer while sea-breeze and friendly vibe.

Chiringuito Sicsú
Paseo Maritimo Ciudad de Melilla s/n

Guisando Limonar
Gazpachos are 100% natural, high in vitamins, rich in fibre, and prevents high blood pressure. The fresh vegetables help in securing great flavours in a healthy way.

Guisando Limonar
calle la Era, 25. Pinos del Limonar, 29016 Málaga, Spain
Tel: +34 951 08 88 53

El Tapeo de Cervantes
This restaurant's gazpacho is wonderfully different, elevates one's palate to a fusion of traditional and lively taste.

El Tapeo de Cervantes
Calle Carcer, 8, 29012 Málaga Centro, España
Tel: +34 952 60 94 58

Alea Restaurante's Gazpachuelo con miso rojo or Gazpachuelo with red miso.

Alea Restaurante
Calle Fajardo 11, Málaga, Spain
Tel:+34 952 21 86 39

El Pimpi
Don't miss El Pimpi's own version of gazpacho. It's served with a separate plate of chopped vegetables, packed with lovely, reinvigorating taste.

El Pimpi
Calle Granada 62, 29015 Málaga, Spain
Tel:+34 952 225 403
Vegetariano El Calafate's Gazpacho de remolacha or Beet gazpacho.
Vegetariano El Calafate
Calle Andrés Perez 4, 29008 Málaga, SpainTel: +34 952 22 93 44