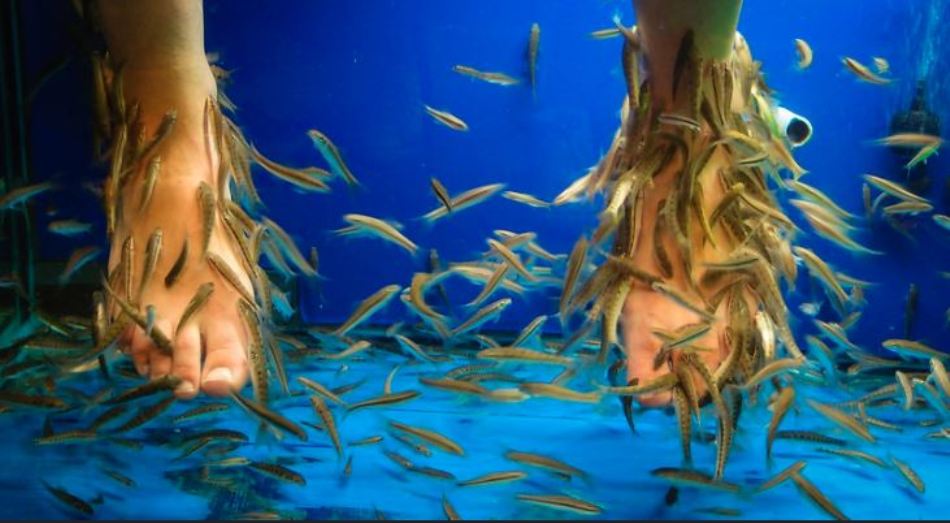 Credit: flickr / VnGrijl / CC BY-SA 2.0
Not only best for sightseeing and cultural immersion but Malaga also offers special wellness services and spas. Here are some of Malaga's spas with different approaches to relaxation, but with the similar goal of providing calmness, serenity, and joy.
Fish Foot Spa
Fish Spa is an enjoyable experience and very popular in Malaga. There are plenty of nail spas incorporating fish foot spa to their services, wherein the toothless Garra rufa fishes nibble and eat away dead skin. Rates start from €19 for 30-minutes, and €10 for 10-minutes
Dr. Fish Foot Spa
Calle Sierra de Cazorla no 1, 29620 Torremolinos-Málaga, Andalucia, Spain
Tel: +34 617 42 89 18
Hours: 11 am - 10 pm


Nemo Fish Pedicure Spa
ABC Nailstore Nerja, Calle El Barrio 35b, Nerja, Spain
Tel: +34 952 52 52 89
Rate starts at 10€ for 10-minutes
Hours: 10:00am - 7:00pm

Jack's Fish Foot Spa
Calle San Miguel, 34, 29620 Torremolinos, Málaga, Spain
Tel: +34 952 40 94 80
El Hammam Open Space & Spa
This spa specializes in overall relaxation. Inspired by the earth's elements, El Hammam will fire with your senses with their colourful rooms, open hours, and large spaces. Per bath, amenities are included, as well as access to the gorgeous view of Malaga Cathedral and Jewish quarters from their Terrace Cafe. Towels and slippers provided, personal lockers. Walk-ins accepted. WiFi access.
Services:
Bath: 18€
Bath + 15-minute massage: 29€
Bath + 30-minute massage: 34€
Bath + 60-minute massage: 45€
Massages:
Ritual (water & soap)
Turkish (water, soap & crin)
Lomi- Lomi (deep Hawaian)
Ayurvedic (indi, inn tatami)
Swedish (classic)
Sport (pre or post comp.)
Bambú( Japanese, holistic, relaxing)

El Hammam Open Space & Spa
Calle Tomás de Cózar 13, 29008 Málaga
Tel: 952 22 11 38
Mobile: 648 011 555
Acquaplaya Spa & Wellness
Guests from El Playabella SPA Gran Hotel gives access inside Acquaplaya Spa to guests over 16 yrs old. Towel rentals are €1, flip-flop rentals €3.
Services offered are baths, body scrubs and wraps, massages, facial treatments, cosmetic care, special packages and gift packages.
Price rates start at 24.90€
High-end facilities include lockers, flip-flops, shower areas, relaxing pool, Turkish bath, Jacuzzi, ice grotto, sauna.

Acquaplaya Spa & Wellness
El Playabella SPA Gran Hotel
Urb. Costalita S/N, Puente de Cancelada
Estepona, Málaga
Tel: 902 533 532