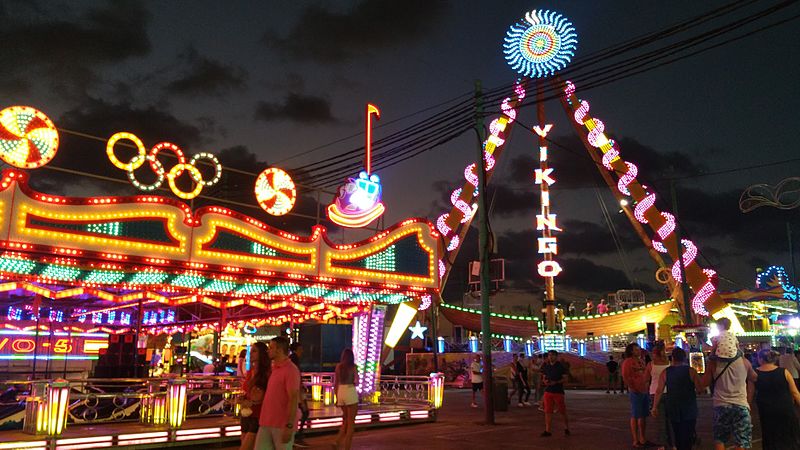 Feria de Malaga is a week long celebration held every August in Malaga. This year it falls on the 15th to 22nd of August. Expect a fair packed with live performers, plenty of street food and drinks, street dancing, parties, a festive vibe, and an overall cheery crowd.
The festival starts off with impressive fireworks, best viewed from Malaga Port. People like to wear traditional flamenco dresses to celebrate, while local and foreign visitors gamely participate with the jubilant activities, drinking, and dancing.
Thousands of people gather for the fair and witness the illumination of buildings and structures in Malaga. Amusement rides are set-up and guests can enjoy roller coaster and ferris wheel rides, which can give you the ultimate aerial view of the Feria. Part of the celebration is bullfighting, which is scheduled within the event.
Marques de Larios is transformed into a street fair, highly decorated and peppered with paper lanterns, flags, flowers.
Feria de Malaga Week Program and Performers
August 14at the Playa de la Malagueta, 8PM
Singer, actress, TV host Eudrne García Almagro or simply Edurne
August 15
Gypsy singer and actress Rosario Flores, performer Álvaro Carrero
August 16
Flamenco singer José Mercé, singer Marina García
August 17
Spanish musical pop group Siempre Así (8 members), musician Encarni Navarro
August 18
Venezuelan singer and television host Carlos Baute
August 19
Flamenco Festival features Spain's best flamenco performers

August 20
IX Final Copla Contest "Ciudad de Málaga"
August 21
Singer Merche or Mercedes Trujillo Callealta, performer Justo Gómez
August 22
Musical bands Efecto Mariposa, Dry Martina, and Danza Invisible